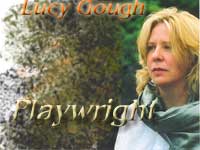 Lucy Gough.
---
Born in London, shortly afterwards moved to Beddgelert to live with my father's family where my sister was born.
I can track the seeds of my future career even here, telling stories each night to my sisters and even charging them sometimes to tell them the end!
A few years later having moved around all over the place finally settling near Bath where I went to a convent school until I left at fifteen with no qualifications.
Moved back to Wales this time to Fishguard where my first son was born when I was 18.
My second child a daughter was also born there.  With no qualifications but a passion for the theatre I started studying from home a Drama Course with the Open University.
At the age of 24 with two children I moved to Aberystwyth to do a B.A. Hons in Drama.  As part of my degree I wrote a play which was performed called Bad Habits Die Hard, about a naughty nun.
Having completed my degree I got re-married and had another baby.
I commuted from Aberystwyth to Birmingham University for a year to study for an M.A. in Playwriting set up by David Edgar.  I went the first year it was set up and was taught by many very experienced playwrights as well as David Edgar, including Anne Devlin and Olwen Wymark my tutors. Visiting Lecturers included John Arden, Anthony Mingella and Howard Baker, Brenton, Johnson, Bennett.  It was an incredibly useful and instructive year and from then I have never looked back.
The play I wrote for the M.A. was called Joanna and was about a prophetess to whom I am related; Joanna Southcott.
The play was first performed at the Alladyce Nicol Studio in Birmingham and subsequently broadcast by the BBC World Service (as The Prophetess of Exeter) on play of the week directed by Gordon House.  It was also given a rehearsed reading by Made in Wales at Theatre Clwyd and was shortlisted for the R.S.C. New Writing Festival. 
In the next few years I wrote a number of stage plays; Catherine Wheel, By a Thread, Rushes, Crossing The Bar (Shortlisted for John Whiting Award and BBC Wales Writer of The Year), and As To Be Naked (is the best disguise).
In 1994 I was commissioned by BBC Radio 3 for a play about the Lady Of Shalot – Our Lady of Shadows.  
Since then I have completed dramas for BBC Radio 4; Head, The Red Room (with material from Glyn Hughes), The Mermaids Tail (with material from Marina Warner) and Judith Beheading Holofernes (with material from Germaine Greer), The Raft and most recently the Woman's Hour Classic dramatisation of Wuthering Heights.
For the last few years I have been script-writing for Mersey T.V./Channel 4's Teen soap Hollyoaks.
I have also become a Lecturer for the University of Wales, Tutoring a module in Radio Drama Writing. I also do guest Lecturers and Workshops on Radio Drama, Soap Writing or Creative Writing as far a field as Hull University or as close to home as in my own house.
---
Plays by Lucy Gough:
Gryfhead. [2003]
In a bleak landscape of run down housing a woman comes to terms with the a life defined by the lack and loss of love.
Toured in Wales by Lupa Theatre Co.
The Raft . [2002]
Radio play for BBC Radio 4 about a young girls journey through drug withdrawl and despair in a prison. Broadcast May 27th 2002.
Mapping The Soul. [2001]
The play concerns Adam (trailed by Eve) who thinks he has found the meaning of life in the 'Genome Book'.  But there is no gene sequence for the Soul!  Does the meaning of life reside in the discoveries of science and the mapping of the Genome or does it lie in the soul?  If so, where is the soul?  Where can you find it?  A large cast play for Castaway Community Theatre Co.  Performed in May 2001 at Aberystwyth Arts Centre.
Judith beheading Holofernes. [2000]
Drama for BBC Radio 4 about Artemesia Gentileschi's painting Judith slays Holofernes with documentary material from Germaine Greer.  Broadcast by BBC Radio 4  March 2000.
The Mermaids Tail [1999]
Radio drama about a teenage girl who wants to be a mermaid with documentary material from Marina Warner.
Broadcast by BBC Radio 4 in December 1999.
The Red Room [1999]
Radio drama about Charlotte Bronte and the writing of Jane Eyre with documentary material from Glyn Hughes.
Broadcast by BBC Radio 4 in Spring 1999.
Prophetess of Exeter [1997]
Radio version of Joanna [1989]
Broadcast by BBC World Service (Play of the Week) in 1998.
Wolfskin [1997].
Short version performed in The Machine Room Ignition Season at the Lion and Unicorn, London.  A comic play set in a bleak urban future where young men in packs hunt beggars.
Performed by Lupa Theatre at Aberystwyth Arts Centre, part of the 2000 Restless Gravity Festival.
Head [1996].
Broadcast in 1996 by BBC Radio 4 Drama. London.  Set in a bleak urban Tenement flat, Ella (Isabella) retrieves the severed head of her lover Enzo (Lorenzo) and puts him in the fridge.  A humorous re-working of 'Isabella, or the Pot of Basil'-Keats
Rushes [1995]
Commissioned by Arad Goch Cymni Theatr. A play for 5th and 6th years about the Holocaust, set in a death camp where a film is being made. Toured early 1996.
Stars [1995]
A play for 10 to 12 year olds about a search for the end of the universe, commissioned by Theatr Iolo and  Cardiff Science Museum, 'Techniquest'. Performed late 1995.
Haul [1994]
Aberystwyth Community Play
Bi-lingual play written with Sera Moore-Williams.
Commissioned by Aberystwyth Arts Centre.
Crossing The Bar [1994].
Finalist BBC Wales Writer of the Year Award 1994. Short-listed John Whiting Award 1994.
Commissioned and toured nationally in 1994 by Fallen Angel Theatre Company, including the Premiered at the Hay-On-Wye Literary Festival. Tour included the Edinburgh Fringe Festival and The Green Room, Manchester.
A stage play about death in custody.  A young remand prisoner hangs himself in his cell; in Limbo he finds a novice 'Nun' from the Middle Ages who has starved herself to death. Together thy discover of the power of the imagination as they confront 'the Keeper' and 'the Boy' finds a way to life.
As To Be Naked (Is the best disguise). [1994]
A stage play about the famous 'Ladies of Llangollen'.
Commissioned by Llangollen Museum and  performed in June/July 1994 by Theatr Clwyd Theatre In Education [Outreach] in the grounds of Plas Newydd (the home of 'the Ladies'), Llangollen, the ECTARC Hall, Llangollen and in Theatr Clwyd. Toured in 1996 by Castaway Theatre Co.
Our Lady Of Shadows [1994].
A poetic drama that releases the 'The Lady of Shalott'.
Broadcast by BBC Radio 3 in the Studio 3 season 1995. Performed Theatr Y Castell, Aberystwyth and 'Flames' Festival University of East Anglia.
By A Thread [1992].
Young Peoples Theatre linked to the curriculum for 5th and 6th years and taking place as four characters flee from a civil war.
Commissioned and toured by Theatr Iolo.
Performed by The Showoffs in April 1998
Catherine Wheel [1991].
Play for young people linked to the GCSE History curriculum about crime and punishment, for 4th and 5th years.
Commissioned and toured by Scallywag Theatre In Education Company.
Joanna [1989].
A powerful play about the 'Prophetess of Exeter'.
Performed Alladyce Nicol Studio, Birmingham. Short-listed by R.S.C. New Writing Festival. Rehearsed Reading Made In Wales Stage Company Write On Festival, Theatr Clwyd, Mold. Workshop at The Academic Women's Conference, Gregynog. Recorded for Radio Ceredigion.
---
Work in progress:
Wolfskin. (Full length stage play)
Western Stars . (T.V. Drama)
Sheol.
A full length play set in the Pagan Hell.  Seeded by Made In Wales Theatre Company, Workshopped by Red Shift Theatre Company.
Script-Writing 'Hollyoaks'.
(C4) for Mersey T.V. Co.
---
Publications:
A volume of three plays is published by Seren Publishing; Crossing The Bar, Head, Our Lady Of Shadows and two monologues in a volume (One Woman, One Voice) by Parthian.
---
Other:
Since 1998; Lecturer for Radio Drama Degree course Department of Theatre, Film and Television Studies, University of Wales Aberystwyth.
Guest lectures and papers at;  Radio Studies Network 2000 Goldsmiths University, London -M.A. in Playwrighting, University of Birmingham. - Trinity College Carmarthen. - Swansea Continuing Education College. - Bath Literature Festival.  Stoke on Trent University.
---